Policy Evaluation System
 Policy evaluation is based on the Government Policy Evaluations Act. It is a process in which governmental administrative organs take the initiative in measuring and analyzing the effects of policies. This process is completed to make objective judgments based on a certain scale and provides information that contributes to accurate planning and policy implementation. Policy evaluation is embedded and implemented as a standardized system within a larger management cycle of policies with the plan-do-check-act (PDCA) cycle as a key element.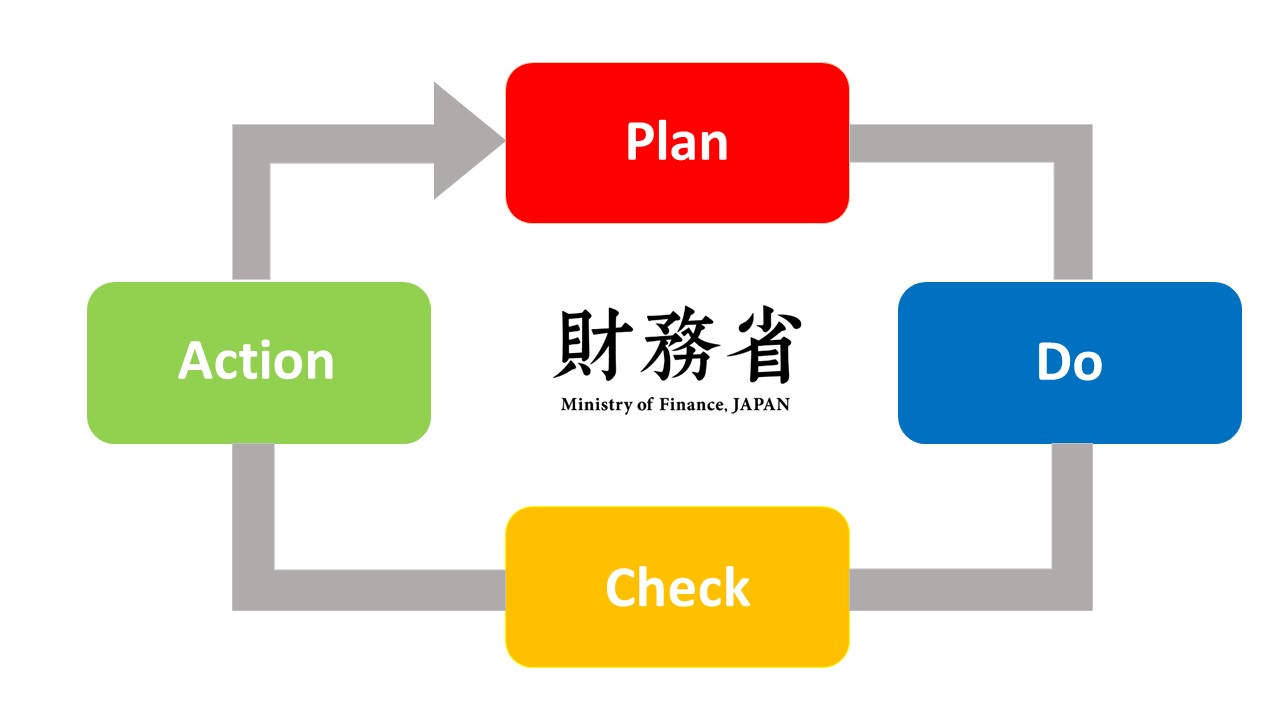 Conducting Policy Evaluation in the Ministry of Finance
 The Government Policy Evaluations Act sets forth the basic items of policy evaluation. It also stipulates the basic policy on evaluation, which should serve as a guideline for each administrative organ to make basic plans and establish policy evaluation activities. Based on the above, the Ministry of Finance (MOF) stipulates basic matters related to policy evaluation in the basic policy evaluation plan. Furthermore, MOF prepares a policy evaluation implementation plan and a pre-analysis table that describes the content of the goals, any efforts to achieve them, and measurement indicators every fiscal year. After each policy is implemented, the policy effects are identified, analyzed, and evaluated. Finally, Policy Evaluation Report is prepared.
Mission and Policy Goals of Ministry of Finance
 MOF's mission is defined as follows: To secure the trust in the nation and ensure that future generations inherit a hopeful society. We strive to secure the trust in the nation and maintain a stable yet dynamic economy and a peaceful and prosperous society, while at the same time promoting sustainable development of the global economy, by conducting efficient and transparent public administration and comprehensively managing national finances from the citizens' perspective as taxpayers, thereby ensuring that future generations inherit a hopeful society. MOF establishes overall goals and policy objectives (policy goals) based on this mission.
FY2021
FY2020
FY2019
FY2018