PRI Topics
Public Policy Review
Fiscal investment and loan program (FILP), a government investment and loan activity not funded by tax, has undergone a major transformation since the beginning of the 21st century. In this special issue, we focus on traditional themes such as FILP for local governments and crisis responses as well as more recent topics including infrastructure development and public-private funds, thus highlight the contemporary state of FILP.
Status of Functions of Public Quasi-Equity Funds in Japan: Possibilities and Risks of Public-Private Funds (PDF:517KB)

MITSUSADA Yosuke
KAWAKITA Hidetaka
Considerations on Infrastructure Aging and Renewal Investment Financing (PDF:520KB)

NEMOTO Yuji
Local government cash flow situation as viewed from the fiscal indicators of the Assessment of Fiscal Conditions (PDF:713KB)

OHNO Taro
ISHIDA Mitsunari
KOBAYASHI Wataru
Reports and Papers
PRI Discussion Papers
Title/Keywords

Authors

Creation Date
/No.

Tax Avoidance or Compliance Costs Avoidance? Evidence from VAT Reforms in Japan(PDF:753KB)

Keywords: compliance costs, value-added tax, sole proprietor, firm behavior
JEL Classification: D22, H25, H32, L11
Takafumi Kawakubo: London School of Economics and Visiting Scholar, Policy Research Institute, Ministry of Finance, Japan

Takafumi Suzuki: Lecturer, Aichi Shukutoku University

Kohei Asao: Visiting Scholar, Policy Research Institute, Ministry of Finance, Japan
June 2022
/22A-02
Seminars
PRI held the Joint Seminar with the Ministry of Finance of the Republic of Uzbekistan and the Banking and Finance Academy (BFA) on August 8th and 9th. PRI provided the economic and financial policy lectures as follows for 200 participants, including staff of UMOF and BFA students, followed by Q&A session each day.
【August 8th】
【August 9th】
The Policy Research Institute (PRI) held its "Seminar for Central Asian and Caucasian Countries 2022" from September 26 to 30, 2022. This seminar is, as part of Japan's intellectual support for the countries with transitional economies, aiming to contribute to human resource development in Central Asian and Caucasian countries. Accepting promising young officials from their ministries of finance, tax authorities, and so on, we provide them with knowledge and experiences regarding Japanese public finance and its economy. The seminar is also expected to contribute to the development of a network among fiscal authorities.
This year, PRI organized this seminar via an online system, and 9 officials from Georgia, Kyrgyz, Tajikistan, Turkmenistan, and Uzbekistan participated in the seminar. In order to pass on Japan's policies and experience in economic activities across a wide range of fields, such as the economy, tax policy, and finance, to the participants, lectures were delivered by scholars. Then, the participants introduced his/her country's economic situation.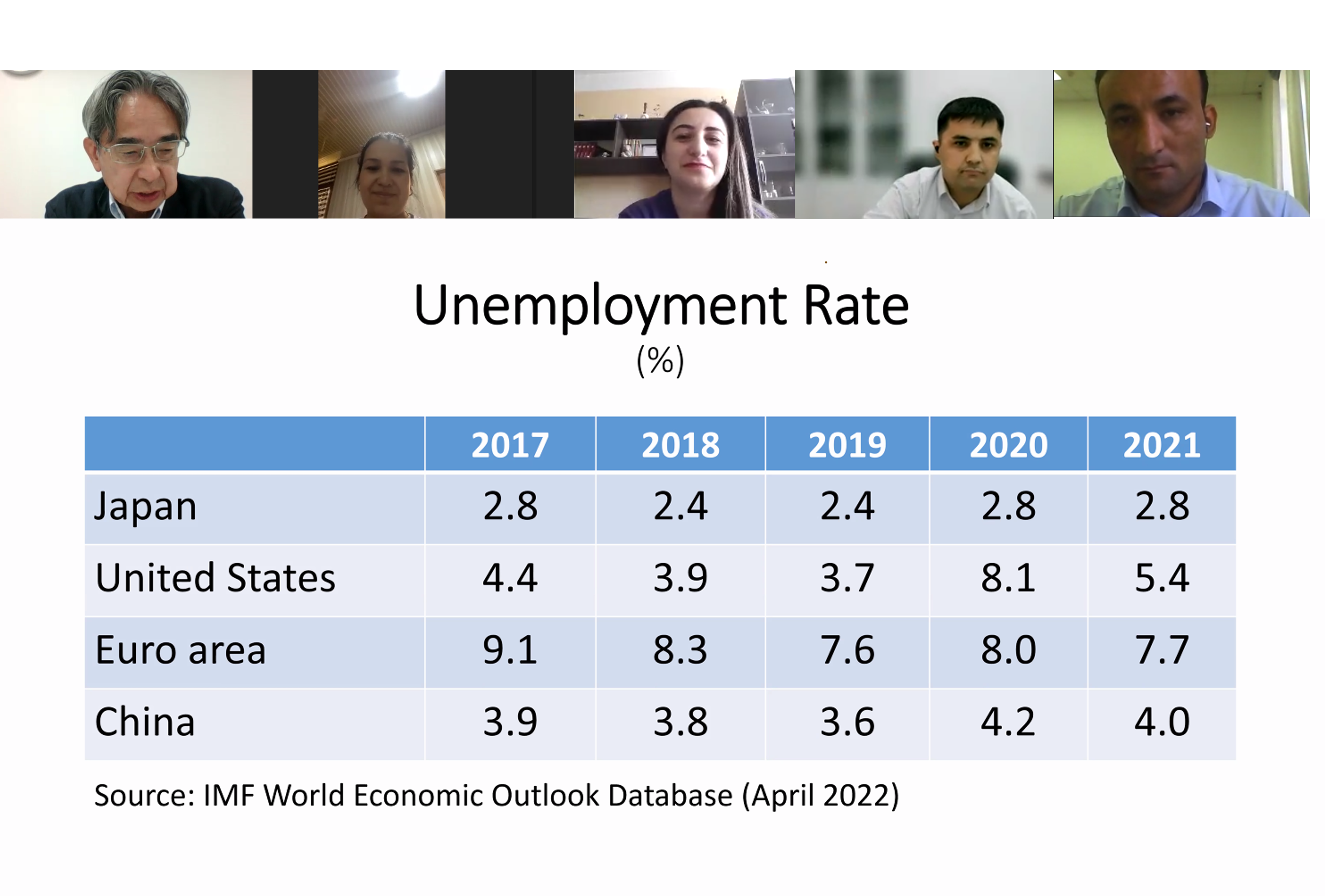 International exchange and other events
Policy Research Institute (PRI), IMF (Fiscal Affairs Department), and Asian Development Bank Institute (ADBI) held The Seventh Tokyo Fiscal Forum "Fiscal Policy after the COVID-19 crisis: Toward a Resilient, Inclusive, and Digital Future in Asia" on June 22 and 23, 2022.
Government officials and experts in fiscal policy from 21 countries in Asia and officials from international organizations such as the IMF and the World Bank intensively discussed ways to strengthen the credibility of public finances, Asia's fiscal framework, fiscal needs for achieving the Sustainable Development Goals, and the digitalization of government operations.

Top of Page